About Us
---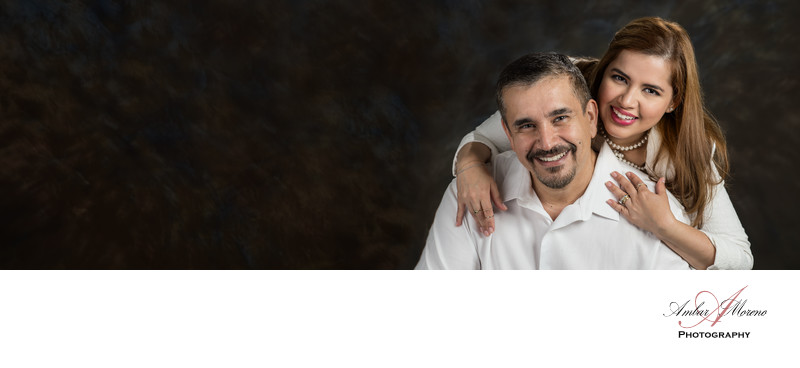 ---
Thank you for visiting our website. My name is Ambar Moreno and this is my husband, Eddie Moreno. We are the owners and photographers of Ambar Moreno Photography located in South Jersey. I appreciate you taking the time to read about our story and what makes our studio so special.
We are all inspired by life experiences. The milestones and breathtaking moments that we have. The struggles and obstacles that we all endure also shapes or lives in different ways. When I first met my husband in 2000, I knew it was going to be the beginning of a beautiful story. That loving relationship and the birth of our son, nurtured our creativity and it has been our foundation ever since. My husband and I have become storytellers through our photography. It inspires us to capture moments for others that are empowering and endearing. I like to think of it as the art of storytelling through the eyes of privileged observers. Life passes by so quickly and we never get the opportunity to appreciate the beauty of it all. Photography is a way of preserving that beauty and all the experiences around us.
When Eddie and I opened our studio in 2006, it was the beginning of an ambitious dream to provide artistic and beautiful photography for anyone who wanted to preserve their day and have it serve as a vivid reminder of their love and commitment for each other. Before embarking on our dream, he and I based our foundation on education and experience. But that alone wasn't going to provide the photography we wanted to offer. The artistic and creative talent came from our own relationship and the love we have for each other. I understand what it is to creatively document someone's story and celebrate that passion through our wedding photography. Being able to artistically photograph the raw emotion that is happening right in front of us is what Eddie and I do best.
Wedding Photography
A wedding is not just what's happing throughout a day in terms of the ceremony or cake cutting. The real wedding is what's happening underneath. It's the relationship of a couple and the bond they have with family and friends. Couples from all around Philadelphia, New Jersey and beyond turn to Ambar Moreno Photography in search of photography that translate romance, sincerity, intimacy and closeness through the images we capture. It's the art of storytelling through imagination and technical skills. It's the personal interaction and the expressions that bring a photo alive. Couples who fall in love with their photographs get an indescribable feeling of joy when they see their photography. We have made strides perfecting our talent to capture exceptional moments, whether it's a wedding day, an engagement, a lifestyle portrait or a family session. The once in a lifetime moments that we photograph today are the documents, which so vividly tells the story of yesterday.


Portrait Photography
As a trusted and proven photography studio with years of experience in Philadelphia and New Jersey I believe in creating beautiful portraits for clients. Our goal is to capture photos that are classic, but yet it has a contemporary style that look fresh and delights everyone. Our goal is to provide our clients with an exceptional experience and most of all amazing portraits. Capturing a beautiful and artistic portrait requires first a vision and second, an understanding of what a client is looking for. Every portrait that Eddie and I take is given our utmost creative touch. Looking at a photograph we captured should trigger precious memories of a time in your life that was special. It's a task we don't take lightly and it's one that we'll always deliver on. It's our promise to you. We take into account a client's personality, their likes and dislikes. We also take into consideration the time of year or season that they prefer to have their photos taken. Sometimes the middle of the summer is just too hot so we suggest they have their portraits taken during the spring when the flowers are blooming or in autumn when the leaves are changing color. Eddie and I are always open to your suggestions and we love to capture your vision as well. We'll be glad to discuss your portrait session and the location you are considering. We hope to see you soon!